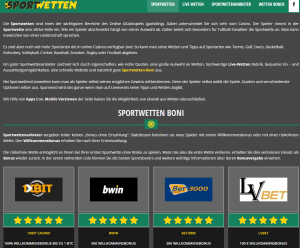 Sport betting is one of the most chosen areas of online gambling. It is very different from the casino games. Players choice is really important. Especially among the football fanatics, it is also a way to make the football matches more exciting. Like in almost all countries, Sport Betting is really popular among the German Players and there are many choices for them to play online sport betting. But it is not always easy to find the best ones.
As TUM LTD, we founded wetten.site for German Betting Players. Thanks to wetten.site, Players in search of a betting web site could easily find the best web sites for German Players and get detailed information about their bonuses, betting types,  bet offers, payment methods, withdrawal options, casino software etc.
If you would like to have your online betting web site listed and reviewed on wetten.site, please send an e-mail to affiliate@tummarketing.com.